Google Ads Reps Calling – Should You Listen to Their Advice?
Picture this: It's 2010 – Your phone rings. You pick up, and much to your surprise and excitement you hear someone from Google is calling you, of all people, directly. You've been assigned a dedicated Google Adwords rep! This means you have someone you can contact directly at Google for support and maybe even first entry into advertising pilot programs – unheard of in this day in age. You kind of feel like you won a special prize.
As funny as that might sound, it used to be that the honor of being contacted by a real Google ad rep meant you were in some kind of elite circle of in-the-know marketers. 10 years ago, marketers bragged to one another about being assigned a Google account representative for their Google Adwords accounts.
If you saw a Google employee at a marketing conference, they were often followed by a large crowd of people asking questions, taking photos with them, or just eavesdropping. Google reps were treated like rockstars by marketers. They were rarely seen, and when you did get to talk to one of them, there was a chance that they might pull back the curtain a tiny bit and give you some insight into their notoriously secretive algorithms or practices.
Much has changed at Google in 10 years.
Nowadays, if you're a seasoned small business marketer and you get a call from Google, you know what awaits on the other end of the line: Bad advice guised as helpful "optimizations" to your Google Ads account.
This isn't true for accounts spending over $1m or so monthly, but for the rest of us, we are assigned a Google Ads account rep with a fancy title.
Enter the "Dedicated Google Account Strategist".
Over the years, the support offered by Google reps has shifted from helpful, in terms of things like useful insight and looking into technical problems, to a sales-first approach. At the same time, Google's Adwords (now called Google Ads) interface has shifted from one where advertisers could tightly control the keywords they bid on and what they bid for specific search terms, to one that heavily pushes AI-driven "optimizations" and obscures data or completely strips it away.
The Dedicated Google Account Strategists' role nowadays, is to provide "optimization" tips to whoever is managing the account's ad spend. The trouble with these recommended "optimizations" is that they are often geared towards Google's profits and not yours. In fact, Google Ads reps, with no knowledge of the business's overarching marketing goals, earn commission on the number of "optimizations" they are able to get advertisers to apply to their accounts. In the long run, these so-called optimization tips serve only to further obscure data from the advertiser by way of "automation" vs. manual controls and drive home the idea that Google should be in control of your advertising dollars on their platform.
Google Ads Reps Have Become Glorified Telemarketers
This is an issue that the digital marketing community has been buzzing about for years. Independent Google account managers, like myself, join groups to help one another and discuss things like this. The issues these "Google Account Strategists" cause comes up very regularly in these groups. Most have learned the hard way that Google ad reps provide bad advice that will end up costing you more in the end and leaving you wondering if Google Ads are even worth it anymore.
This is just one of many, many, threads on this topic that regularly come across my social feeds. These are people who generally know their way around Google Ads; Imagine being an unsuspecting business owner or marketing manager who gets a call from one of these Google "strategists"? Applying their recommendations could spell disaster, or at a minimum, and most often, mean hours spent trying to undo whatever was done that is causing costs to skyrocket.
There are some good Google Ads reps out there but they are incentivized to offer poor advice
I recently spoke with a former Google Ads rep turned Quality Analyst who provided oversight to the Google Ad rep team in a private chat. She gave me a bit of insight into how Google Ads reps prioritize tasks. They are given points based upon tasks assigned to each account by a system called "Apollo". The software checks accounts for ad spend, cost per click, and conversions, and recommends to the rep "improvements" that they should suggest to increase your ad spend with Google.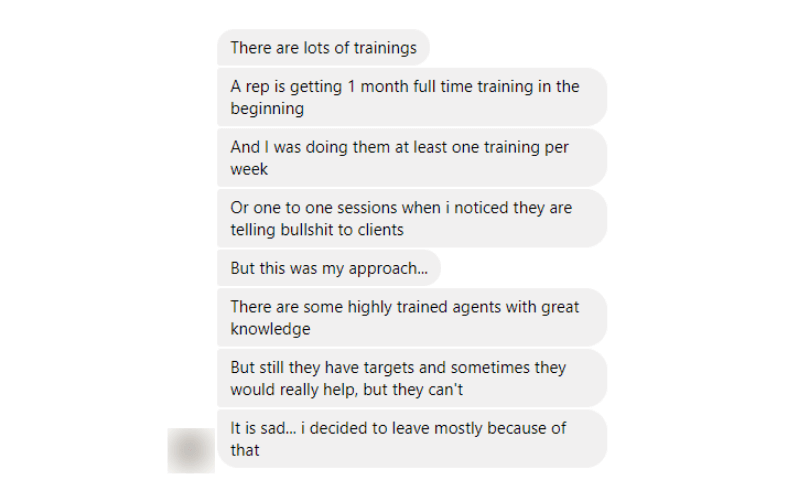 Not all Google ad reps are entry-level and not all of them are novices, but the prospect of dangling commission in front of those who are tasked with this role means they will almost always lean towards earning more vs. giving good, honest advice (if they are able to) if it doesn't increase the amount you're paying Google for ads.
Google outsources the Google Account Strategist position in many regions. This job description from the contractor they outsource to gives some insight into the "Account Strategist" job description and experience.
As evidenced by the job description, one of the primary duties of a Google Account Strategist is to "Develop high-level relationships to serve as a trusted advisor to clients in order to increase / improve their advertising spend". And to do this, they will call you over and over and over again until you either stop taking their calls or apply one of their optimization tips so that they get their points in the system.
If you're an agency or an independent account manager and you opt not to take their calls or respond to emails, they will begin harassing your clients to sow seeds of doubt with them and try and get their approval to allow them to make changes to their account. They will tell your clients that there are "improvements" that could be made to their account. To which, of course, clients will often wonder why Google would tell them that their account isn't optimized if their agency was doing a good job.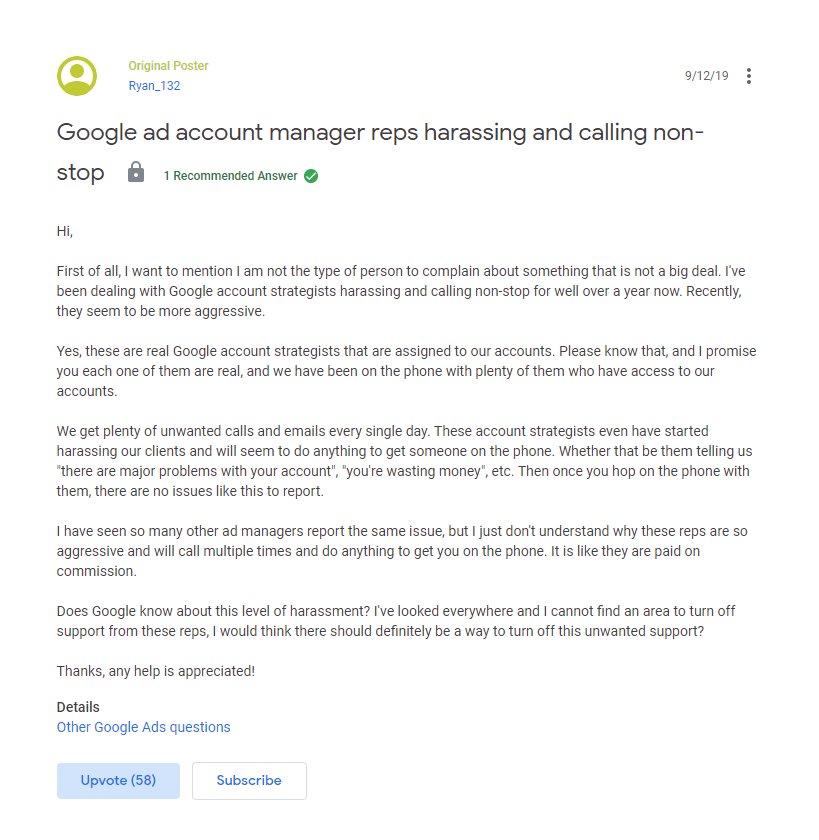 If you're a business owner reading this, trying to sort out whether or not you should apply the recommendations of your dedicated Google Account Strategist, my recommendation is this:
If you are working with an independent agency or account manager: Take note of what your Google rep is recommending but don't allow them to make any changes to your Google Ads account. Discuss the recommendations with your agency and allow them to explain what those changes might mean in terms of your business goals. If you want to test a suggestion they've made, your agency can create what's called an "experiment" in Google Ads to compare the outcome without completely losing any prior optimizations that were made. Your agency should be a partner with a vested interest in your business and long-term goals. It is always in their best interest to keep costs down for you and not to become best friends with Google.
If you are managing your own account: Know where Google's interests lie (in their bottom line) and that while, once upon a time, you were considered special if you got assigned a dedicated Google account rep, that is no longer the case. Get familiar with creating experiments and don't allow Google reps to make changes to your account if you can avoid it. If you feel lost, reach out to an independent agency for a consultation or audit of your Google Ads account. This is a great way to gain insight from an unbiased third party that can save you in the long run.
Last Updated: 15 Aug 2023